An outdoor enthusiast's Paradise beckons...
Experience the lure of a variety of adventures within our outdoor enthusiast's paradise. Set within glacial carved valleys and towering mountain ranges, Glenorchy occupies a unique place with awe-inspiring landscapes and brutal beauty.
The Fabulous Four Getaway offers guided experiences that are perfect for the active adventurer. Hike, bike, ride and paddle your way through our spectacular end of the lake scenery!
Combine the exhilarating rugged outdoors by day and the refined gastronomic delights of seasonal food and wine by night. Relax in your private ensuite chalet and enjoy the benefits of staying in a state of the art, low footprint, eco-friendly accommodation.
This journey has been designed to provide you with variety and new vistas every day. Our legendary personal service during this and all our Getaways will allow you to unwind, relax and refresh as we organise it all!
per person (twin share) from
$4595 NZD
4 nights
Trip Highlights
Relax amidst the rugged beauty of the Southern Alps
Discover the joy of a beautiful pristine beech forest walk
Bike the winding roads through our alpine valleys
Indulge in food prepared daily by our world-renowned chefs
Delight in breathtaking views best explored on horseback or Paddle to a secluded island and explore a unique wildlife reserve
Enjoy optional daily gentle stretch yoga classes
Unwind in our peaceful eco chalets with king bed & ensuite
Relax with a customised massage treatment by one of our expert therapists
Please note that minimum numbers apply to all getaways and prices may vary based on departure season.
Your All-Inclusive Trip Features
All Meals Included

Evening Programs

Hiking

Local Guides

Premium Eco Lodging

Transport

Tree Planting

Yoga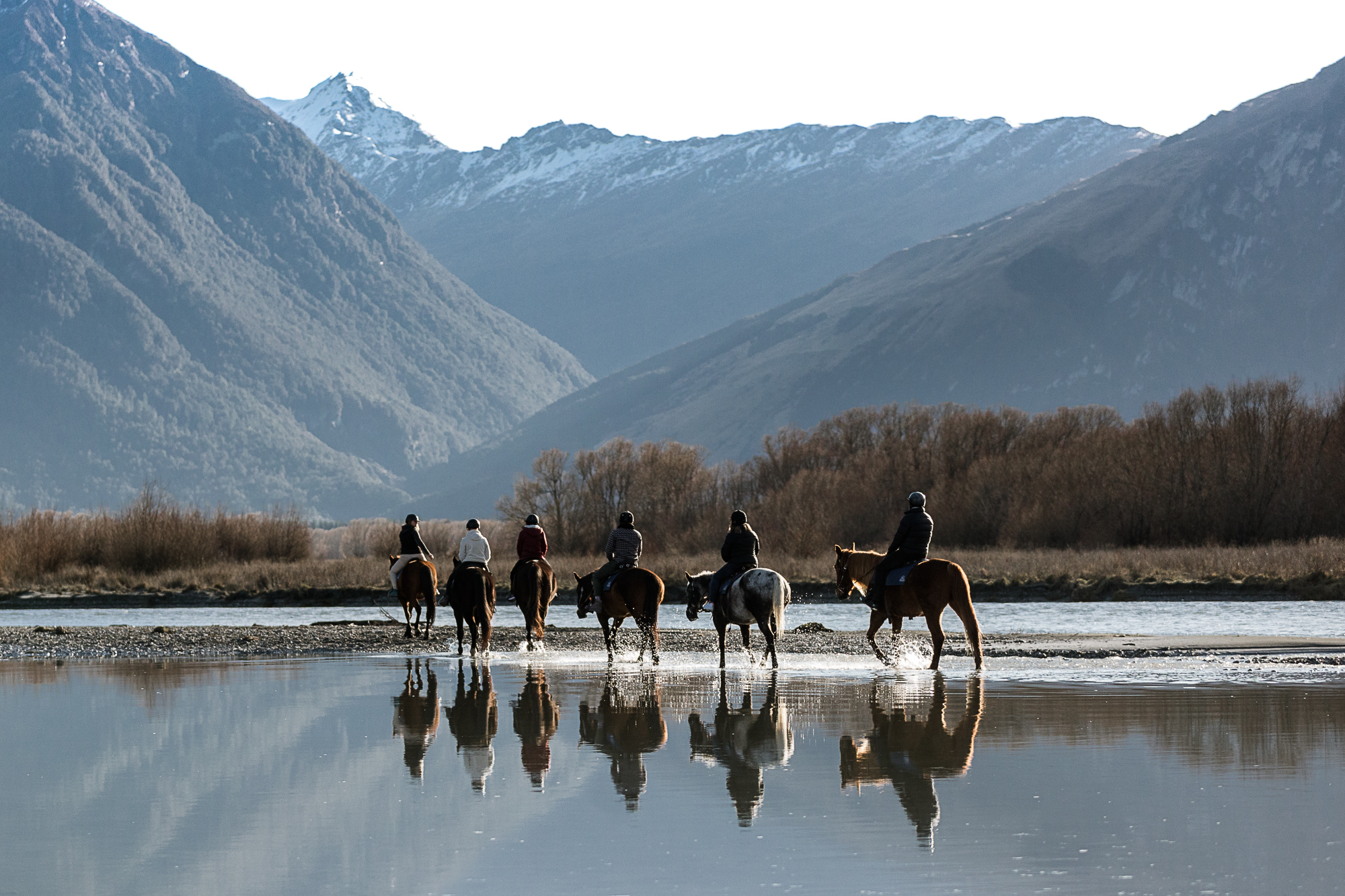 Frequently Asked Questions
Can I change my booking?

Yes, once you've paid your deposit you can change your departure date or transfer to to any of our other getaways - provided you make this change before full payment is due (no later than 30 days before the departure date).
What's the cancellation policy?

To help preserve our ability to generate a profit, all of which goes to the Glenorchy Community Trust, our cancellation policy is as follows:

To confirm your booking, we'll charge a non-refundable deposit of NZD$200 per person. This deposit is fully transferable across all getaways and dates and does not expire. 

The final balance for a getaway is due 30 days before the departure date. Cancellations more than 30 days before the departure date will receive a full refund, less the Lifetime Deposit of $200.

- Cancellations made within 30 to 14 days of the trip's departure date will incur a cancellation fee of 10% of the booking total.

- Cancellations made within 14 to 2 days of the trip's departure date will incur a cancellation fee of 50% of the booking total.

- Cancellations made within 48 hours of the trip's departure date will receive no refund.
Do you cater to a range of dietaries?

Yes! Anything goes - please let us know when you get in touch and we'll make sure your Adventures in Paradise chefs and guides can plan to meet any special needs.
Do you offer private or bespoke trips?

Absolutely! Our Getaways are a great option for a family or group of friends - if you'd like to go private, chat to us about our options.
The Fabulous Four
For booking or enquiries please email [email protected]
To speak to one of our friendly team please call
0800 492 267 (within New Zealand)
(+64) 3 409 0401 (from Overseas)